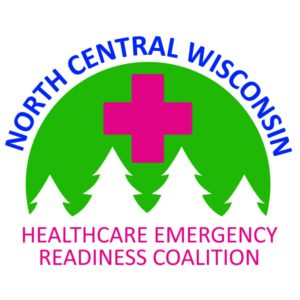 Dedicated Network of
Health Care Organizations 
Linking Healthcare, Public Health Preparedness & Response Capabilities
Prepared and ready healthcare in North Central Wisconsin.
Our Mission:
The mission of the North Central Wisconsin Healthcare Emergency Readiness Coalition (NCW HERC) is to increase collaboration, communication, and readiness across our region's public and private health care providers and their community partners for emergencies, events, and unplanned incidents.
History:
The Wisconsin Hospital Emergency Preparedness Program (WHEPP) still exists to bring hospitals together to focus on their preparedness projects. WHEPP now stands for Wisconsin Healthcare Emergency Preparedness Program and serves as the core and lead partner of the healthcare coalitions.
Health Emergency:
A health emergency includes any event outside of the normal day-to-day operation of the healthcare system and may range from a motor vehicle crash with multiple patients to an influenza pandemic.
The North Central Wisconsin Healthcare Emergency Readiness Coalition (NCW HERC) is made up of any organizations that may come together to respond to a health emergency.
The NCW HERC Board of Directors oversees the work of the HERC. Click here for the BYLAWS. The Organizational Chart for the NCW HERC is currently under development and will be posted here when completed.
NCW HERC Objectives:
Healthcare organizations and other stakeholders build and maintain strong relationships, identify hazards and risks, and prioritize and address gaps through planning, training, exercising, and managing resources.

Collaborate to identify common gaps, share and analyze information, manage and share resources, and coordinate strategies to deliver medical care to all populations during emergencies and planned events.

 

Provide uninterrupted, timely, efficient, and optimal care to all populations in the face of damaged or disabled health care infrastructure.

 

Assure healthcare workers are well-trained, well-educated, and well-equipped to care for patients during emergencies.

 

Conduct simultaneous response and recovery operations.

 
Need to send the NCW HERC a file related to a project, grant or other activity? Please send it to [email protected]